Whether we want it or not, today we have no choice but to embrace our children's online studying and therefore their Internet exposure. Everybody seems to be working frantically to ensure our children's studies go on. Moreover, due to the increased usage of platforms such as Zoom, more and more articles talk about security breaches, videos beings hacked and children being exposed to undesired content. As a result, it's imperious that every school and every family start an open discussion about online safety during this pandemic.
Pay attention to contacts and connections
Make sure the links you receive in your email address come from trusted sources. They should come with a username and a password, which should be personal. Be careful with pages that automatically redirect you or ask you for unexpected information such as your date of birth, your child's name or school details which seem odd to give, etc.
Keep personal information private
Now is the best time to teach your children how NOT to ever give anyone their passwords, codes, usernames, age, school name, best friend's name or any personal detail that might help strangers know who or where they are.
Choose platforms carefully
Most online schoolwork is selected by their school, but some parents are always looking for extra work to help their children advance their studies, practise more or keep them entertained. Be aware of the fact that some pages have age restrictions and age appropriate content. Ensure that the page has privacy settings configured to your desired level.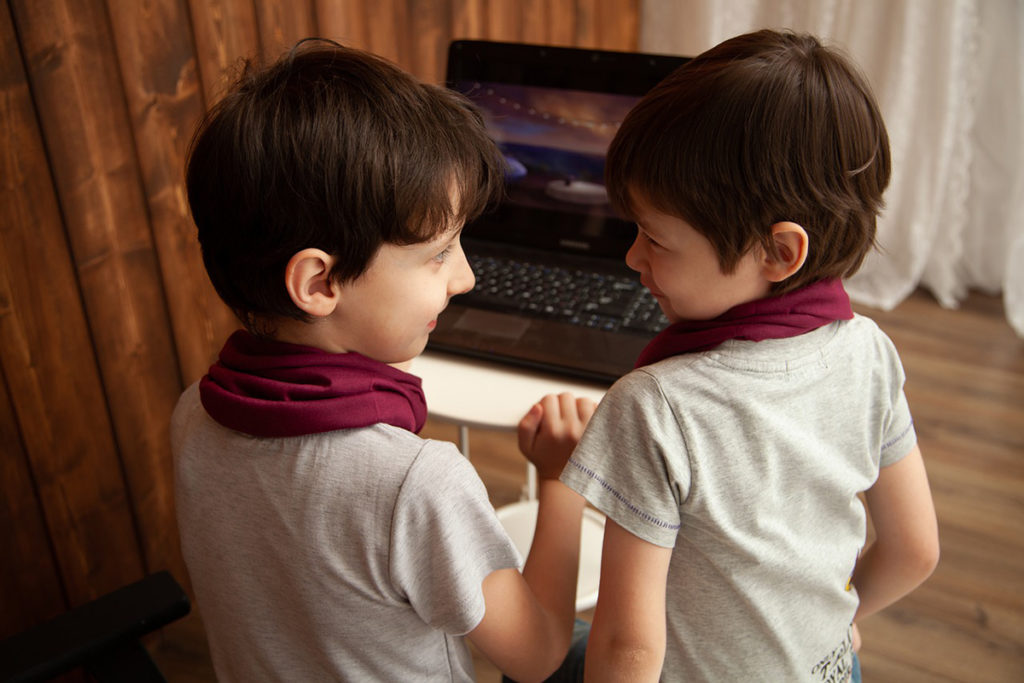 Think before you share
Most schools ask students/parents to upload students' work on certain platforms for evaluation. Teach your children the importance of putting content on the Internet. As parents, also make sure you ask your children if they would like certain personal details on the Internet. Something you might consider 'cute' can easily lead to cyberbullying. Watch this video as an example: https://www.betterinternetforkids.eu/web/portal/resources/videos/detail?articleId=1607943
Fake news
Teach your children about fake news and how it's important to verify information before sharing it, commenting on it, believing it and altering our lifestyle because of Internet information. Here is a great link with examples on fake news related to COVID19 https://www.betterinternetforkids.eu/web/portal/practice/awareness/detail?articleId=5853678. And a video about how to talk to your children: https://www.betterinternetforkids.eu/web/portal/resources/videos/detail?articleId=5235472
Scams
Do your children understand that winning a great prize or a present when doing nothing to earn it is a scam? Do they understand the implications of a scam? Here is a trustworthy link which discusses examples of scams born from the worldwide pandemic: https://swgfl.org.uk/magazine/swgfl-cyber-security-advice-during-coronavirus/
Downloading
Teach your children not to neither download nor install ANYTHING without an adult's permission.
Internet Safety Checklist
Here is a list put together by EU countries which ensures that your child's safety and your family's privacy is secured: https://www.betterinternetforkids.eu/web/positiveonlinecontent/checklist
Chatting
Teach your children not to engage in any online chatting unless you're present or you have opened and approved of a website for them to chat on.
Quizzes on Internet safety
Here is a list of quizzes to ensure full understanding of the above points:
✔ https://www.highspeedtraining.co.uk/hub/internet-safety-ks2-quiz/
✔ https://learnenglishkids.britishcouncil.org/archived-word-games/word-quiz/online-safety
✔ https://onlinesense.org/how-much-online-sense-do-you-have/
✔ https://www.kidzworld.com/quiz/online-safety-quiz